When a few hours turn into a day!
I asked a post in a network group if there were any Danes who had settled in Spain who wanted to say boh and Rikke said come by!
Ca. 3 weeks later I met Rikke Hedeman in Fuengirola, had some food and I invited her home to Bumle. One hour took the other, the talk went on and what an amazing and life-affirming person I was sitting across from?
There was grit and talk. And the whole thing was so skinless down to earth.
"She is a person who, like me, could feel something else in life - 'out of the hamster wheel' "
As she so nicely said what were dreams and she had the 'balls' to live them out?
Because we have both heard many say "wow you dare" "You are brave" Because why do we do that ?! Why dare you jump into it ?! But then I just can't help but ask, why dare you not ?!
I am so curious about what makes others choose to live their lives the way they do. Rikke now lives in Fuengirola, she is following her dream.
But what does she live for?
She lives by helping people in life. Both to be wise in their dreams and to dare to go the way.
But also when life is difficult and there is a need to look at the luggage and the patterns involved. But with an angle where life is used as a partner in being wise to oneself, and daring to be true to oneself.

She does this in sessions where coaching, guidance, meditation, healing, massage and homeopathy (natural medicine) are the elements. She teaches meditation and, just in time, also has retreats where yoga, meditation, treatments and nature are on today's program.

As me, who is both a graphic artist and a daily sitter and geek with graphic solutions for my clients - in addition to blogging and taking beautiful pictures on my way and for the events in life my clients would like to perpetuate, so Rikke also has a more business-oriented job that freelance consultant.

With a half-life experience from HR, she has HR assignments in companies that need extra resources in HR. Both the more traditional and more structural tasks, but above all, the processes of selecting the right employees for the company, and to support managers in finding their management style and unfolding.
All for the purpose of companies living their dreams and achieving their goals - in the coolest way, well to feel.
The talk continued nicely over a cup of hot cocoa
We came in to dare to do things in life and somehow we got to talking about winter swimming and before I looked around I asked if she would support me in jumping in the sea
"I NEVER bathe in cold water! "
I'm lucky if I come to the sea once a year in DK in the summer? But I could feel a challenge in me and thought she could help me with it!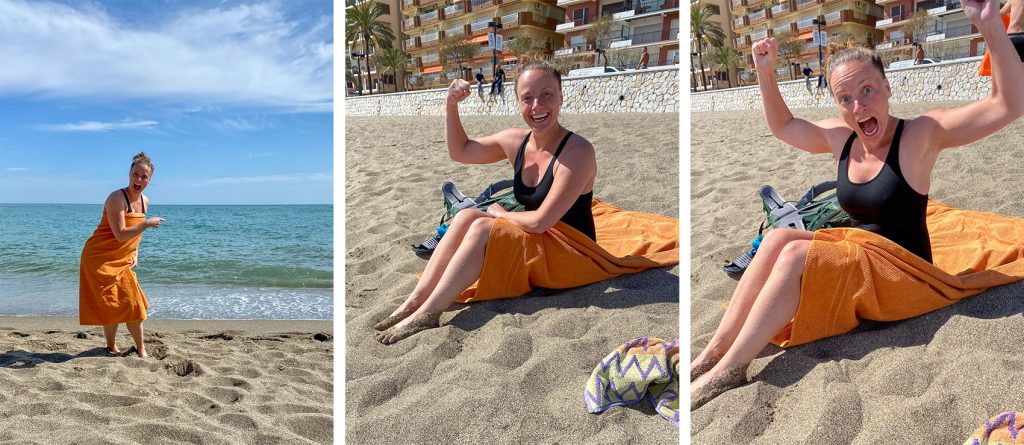 So we went to the beach and I got in !! 3 TIMES!!
It was wildly cross-border and cold. About 15 degrees! But the feeling in the body, in the head, completely inside is a victory! ☀️
I knew I would do it when I asked her. But I also knew I would never have done it myself? Now I actually think I could find doing it one day?
We went home to her and I got a nice hot bath and got to wash a tub of clothes. Two luxury things in my world! And I went home to Bumble with a smile on my face. Good thing I had not worked today, but I had got SO much else with me ??? ☀️
I had met a man who lives his dream, does what she wants, she is true to herself! And inspirational ☺️
Then find a little dream inside you and live it. Feel how well it does you?
Happy weekend out there!
Bubbling greetings
Anja