Hot
I met Frank Free at a free camp - Want to see his Morelo?
Frank Gratis is a Norwegian, 60 years old and makes it a lot of dreams. He lives in his car, drives around and lives the sweet life. But he just does it in a pretty delicious way, so look here
I met the man who has the car that makes Bumle look like a fluff next door? I was washing him, Bumle, when Frank Gratis came by and talked to me. We had a good chat and he entertained me while I cleaned up after my pee (longer story short. I had a leak in my toilet which ran into the "basement" - but everything is fine again) and his friends came with chlorine and gave toilet tips ??
The next day they got off
... and I was wondering if it was because I smelled of silence, but they waved goodbye ...
Meeeeeen a few days later I opened the door after sitting and working all day and there Frank Free kept me next to him in his Morelo. Happy reunion and I asked him if I had to tell you a little about him and his car / camper / bus ... ie his home. And he said yes. And I said FAT!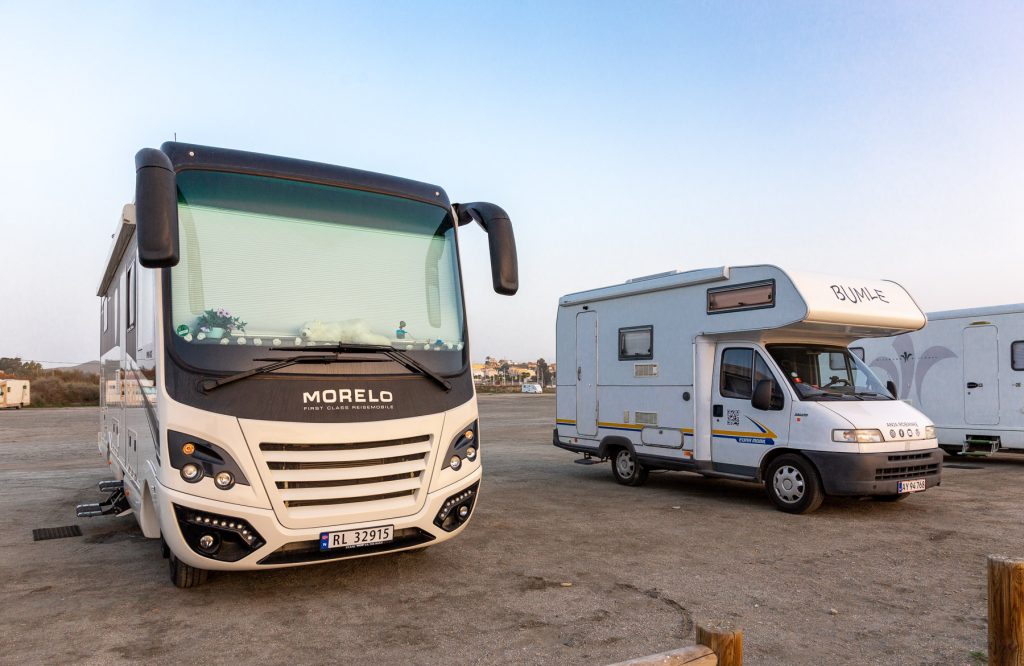 We sat down to the water, got a chat about him and how he ended up with a Morelo.
He started camping as a 20-year-old, then turned into a caravan for many years, but the total freedom burned and he got his first camper 12 years ago, a Dethleffs. Then he had 2 Niesmann's. But 2 years ago he bought his Morelo and has not regretted since.
He has been driving around for 10 years, the first few years he still had his base in Norway, but for the past 8 years he has lived permanently in his motorhome. And most been in Spain.
Facts about that car ?! Let's start… puha but where?
Now it spills out with info about this large 9,50 meter long, 3,66 m high and 2,40 meter wide Morelo bus ??
You need a large driver's license to drive it, as it weighs 7,5 tonnes.
It is 'custom build', ie made as he wants it from the factory. He sat down with one from Morelo and then they went through the car from one end and discussed what Frank's wishes were. And thus built his dream car and home. It only cost 1 million extra?
The car is 40 cm insulated in the floor, so he can live in very strong minus degrees without problems, there is heat in the floor, yes even in the bed there are hot pipes. Heating in the car is done in sections so he can turn on and off in areas where he wants it. And of course, there is also air conditioning if it should be too hot in Spain's sun☀️
Will she stay? Yes she does! Because we have only just started?
The car has a 400 liter water tank, 250 liter greywater tank and 250 liter toilet tank. And with 300W solar cells on the roof and life in Spain with sun, Frank can live for over a month without problems having to think about water and toilet, where I for comparison need approx. every 4 days?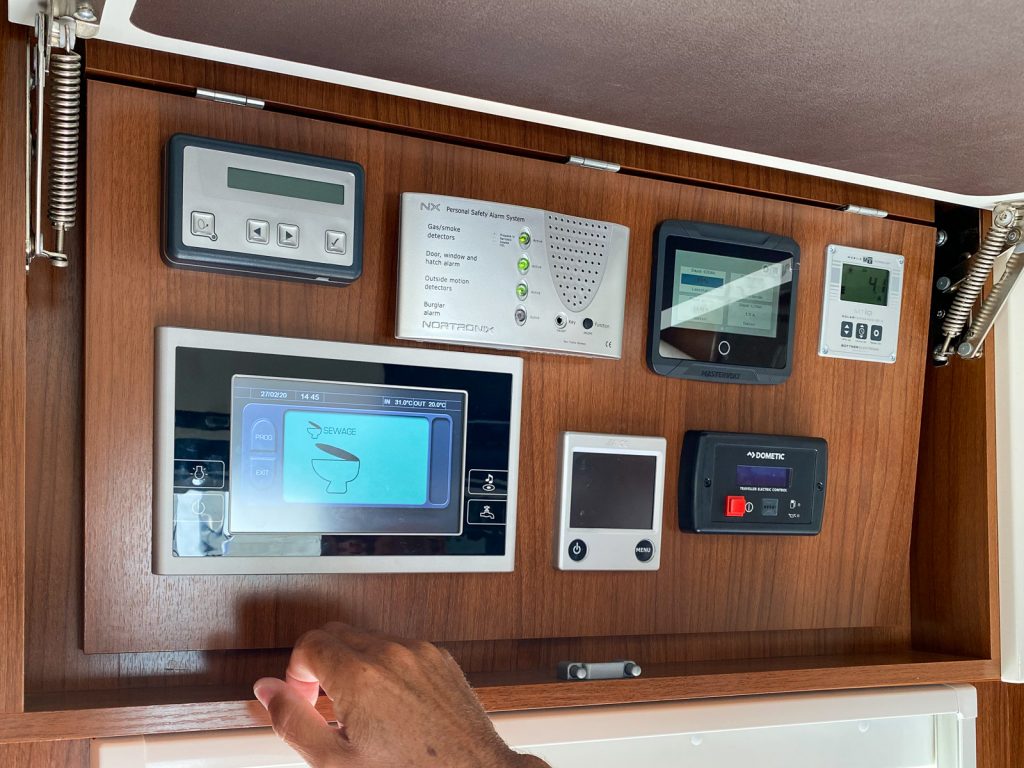 He has an inverter of 2500w so he can get 12 volts over to 220 volts. And besides, he has a generator in case he should be lacking power.
The toilet is made of porcelain and the shower cubicle is bigger than mine in my old apartment. The sink in size, like it was in a house and lots of floor space?
The only thing I think I have in common with Frank Morelo and with Bumle is that we both have 12 liters of hot water in the 60 degree container.
So you probably think, what does it cost?
Because yes I did then myself? 4 million Norwegian kroner, so I dare not think at all about what such a one costs in Denmark our taxes.
And yes, I just condense ...
There is a nice large kitchen with everything you can imagine. Large fridge, freezer, oven, two sinks, gas stove and plenty of room for storage.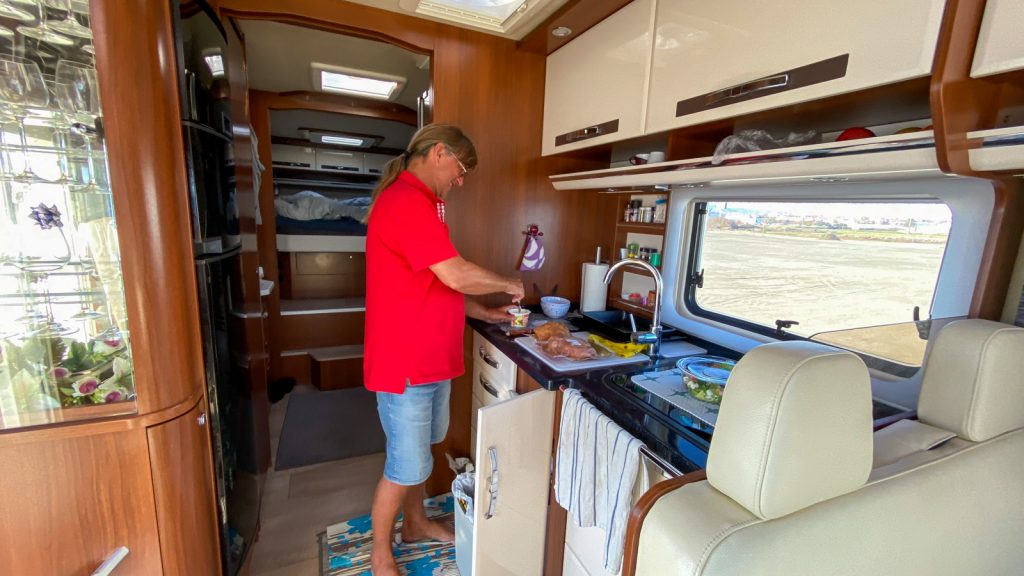 He has a 120 liter gas tank with LPG just like me (See my post on LPG) And in addition, he has 2 x 22 liters of bottled gas to Spain, which he says "Just so I'm sure"?
There is a safety box, navigation system. He can guide it around narrow places, low bridges, etc. He has automatic transmission and cruise control. He has unselected doors in the car, so he has only ONE door and that is the one in the side that we go in and out of. There he has to enter a code to get into the car.
The car has 2 TVs, one in the living room and one in the bedroom. There he can either stream movies, watch satellite TV or throw a DVD.
I sit for a while and laugh at all the things I mention, because hold up then it's luxury?
It certainly has MANY other things that I have not asked for, but now got in then an insight into the fantastic looking car Franks Free driving around.
Ohhh Neeeeeeej, I was forgetting something VERY important! He has a baby Morela in the ass, right? And yes it is a mini car. A smart bagi that weighs 750 kg. Just watch the video here
Now I stop with more facts, but then hold up a cart?
Why the name Frank Free?
It's the coolest / funniest I've heard. Frank tells me the story of why he's called 'Free' for middle names. Frank always stays free, so people ended up calling him that. He knows all the free places in Spain and has been to them all and some many times. So when the name really got stuck, he chose to go all in, and now it is his middle name on all public documents too - also his driver's license
It was a pleasure
There is no doubt that Frank is a very social people and he says he enjoys people coming back year after year and they have many good talks and barbecue nights together.
We had a couple of evenings together before moving on over the weekend to experience some more of Spain. And I still smile at the kind and good (Norwegian) person I have met and will definitely meet again.
So these are some wonderful experiences and people I meet on my way.
Nice you would read with?
Bubbling greetings
Anja
(The English translation is made by a Google Translate plugin. Sorry for any error translations)