Little Wild Swamp took me by storm
I still smile inside over all the wonderful nature experiences I got on the two days I was in the marsh
Jons Beyer my photo buddy was up there before me and had already experienced a lot of the days before so I was excited 😁
I came on Thursday night and we drove out to experience the sunset of the moss and I got the mood under the skin. Then we drove into the shelter, which is in the marsh for overnight. Where I actually met a fox and had to exclaim a little scream when it was belly dark and was just about to pee 😂
A small YouTube video was also created
Before the blog post starts with a lot of pictures, I would like to share that I made a small video too, which can be viewed on YouTube
Pictures from the trip
But most of all I got over 3000 pictures and here is a small selection of them 😁
Then it started right. My first morning magically started with morning ice.
We drove around a bit in the marsh where we had the pleasure of this moose for a while. It was completely quiet, except for the birds. I get goosebumps from such experiences. And those who know me, I know I love such moods with fog / haze.
The fox cubs can melt any animal lover
Then we drove over to the fox pit, where we were lucky after a few hours of waiting for mom fox to come home with food for them 😊☀️
When I saw these kids, there were only words like "awww", "nouooårghh", "they're cute", "No where are they fluffy" 😂 I was completely sold. And I enjoyed every minute they were out of the grave and especially when Mom's fox came with the prey. Then there was life and action 😆2
I think birds of prey are so beautiful and this is the first time I've been so close to one before. This tube hawk sat so nice looking around for a while. And wow ... the pulse was well up and I felt SO lucky.
The big reason I wanted to go up in Little Wildlife was the moose. I had seen some other of my nature photographers friends on Facebook / Instagram had been up to photograph it - I could feel that I would too. And we are lucky, in fact, on several occasions, as you can see YouTube video.
I was in no way disappointed. We got so many experiences with them! And some really close!
The sea eagle is also up there and we saw it then, but far away 😆 But proof I should have, so here it is 🦅😉
And we were so lucky to photograph this beautiful blue neck. It is really nice and has a beautiful song.
There are many birds up there and I would like to photograph some more next time I get up there.
In search of the hunter
While driving around in the marsh, we met mum fox hunting and we followed her along for some time while she was hunting and eating a lot of mouse / moss pigs.
Unfortunately, I didn't get her in the jump. I would have liked it otherwise otherwise well 😁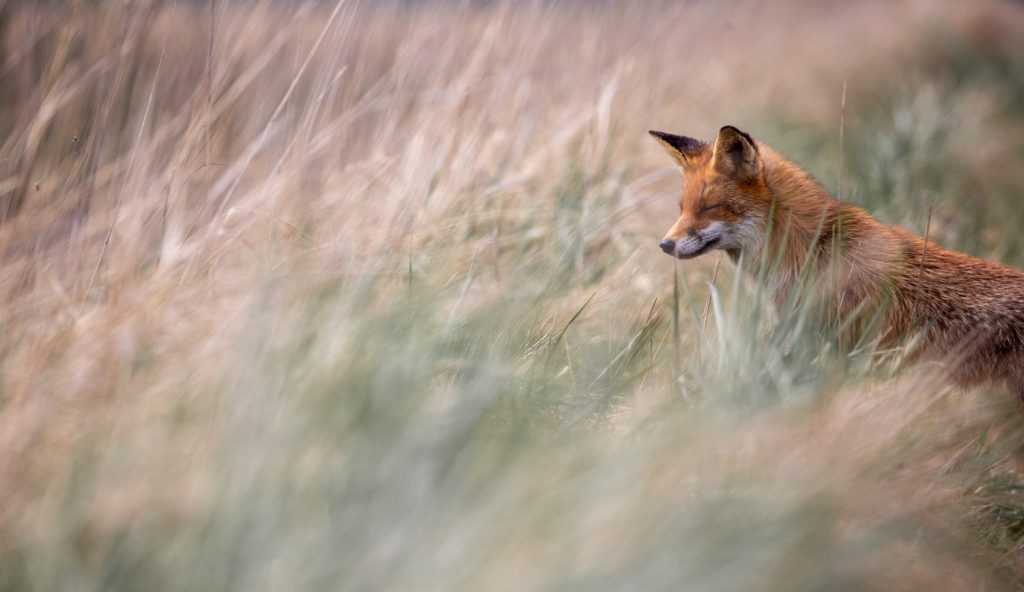 And back she came to the cave with a scowl for the kids. Thereafter, there was play and fun with Mother before she again went hunting. I am very surprised at how much time she spends in the marsh hunting. We waited for several laps of 3 hours.
Our national bird is doing well 🦢
There were several cute kids And they weren't mad at all 😉 It's so special when you get these experiences as a photographer and even more delicious, when there is just the opportunity for a mirror in the river, then I get a YES inside 😁😆
Let's just round off with a little fox 😂😂
I love the first picture SO much. It gets thrown in the poor tongue 😂 It's so nice to get caught a few other pictures sometimes ☀️
I hope you enjoyed watching the pictures and the video on YouTube. I have enjoyed experiencing, taking them and getting it all ready for you here 😁
A little info for the photographers. I have used my Canon 5D3 + my Canon 100-400cm both days. I had a few times with my Sigma 24-70mm, but nothing lasted længe

Happy weekend 🌸
Bubbling greetings
Anja
(The English translation is made by a Google Translate plugin. Sorry for any error translations)