I get a lot of wonderful e-mails and messages with good questions. I have put them together so that everyone can enjoy the answers. I will add and update the page as new questions arise.
The page was updated on December 2, 2020
Click on one of the topics below to go to the section you want to read. And when you want to return to the top, click on the arrow on the right side of the browser.
GENERALLY
How did you come up with the idea?
I cannot remember 100% when the idea got stuck with me. I have always wanted to travel. And I knew that one day I would like to combine travel and work. I just did not expect that it would be right now.
Sometimes things happen in life and a choice has to be made. It just fits into my life now, which accelerated my thoughts. Now, after more than a year on the road, I have no regrets. I am getting more and more happy with my lifestyle.
It is to large degree social media that has inspired me. I looked at the minimalistic way of living and living in a tiny house.
How long have you been planning your "new" life?
Not for long actually - four months more or less. I started as a freelancer in early April XNUMX and a few weeks later, I decided to do it and that it should be indefinite.
Several people have asked "why not wait to travel?", so I could build my business first, but I want to work and travel - at the same time! So yes, it is a gamble, but I would rather try it than sit back and not do what I dream of.
Why travel alone?
I love to travel alone. But I also love to visit friends and enjoy the company of people. I actually have both sides as far as people are concerned, because I am very social at times. But then I also have periods where I just love being me - with me.
Do you never feel lonely?
In fact, people often ask me that. I must be lucky, because I have never ever felt lonely. I can be sad to see, hear and read about people who are lonely. I feel for them as it really seems like a feeling that I never want to feel.
I can definitely miss people, things and experiences. But in my opinion, there is a huge difference between being lonely and missing something.
What is the goal of your lifestyle?
I think about it regularly as many people ask me. There are many goals, so I cannot answer it briefly.
I wanted to make my life more simple compared to what I owned and never used. That goal has been reached since I have sold everything I own!
I love travelling, so the combination of work and travel is great for me. The goal is also to do what I can feel makes me happy.
My former home before I moved into Bumle - everything is sold!
In addition, I want to see more of the world more intensely - like when I have travelled in Iceland. But I do not want to have to stress about seeing as much as possible, as quickly as possible.
I do not want to have a deadline. If I feel like driving on, then I drive. But if I want to stay somewhere, I will stay.
I think all in all, the most important thing is to enjoy life. And it is my job as a graphic designer to photograph and to travel. That way I can do all these things at once!
Did you really sell everything?
Almost… I have a few boxes stored with memories and things that mean something to me.
Are you not afraid of going on such a trip without knowing what tomorrow might bring?
I can actually answer that very easily: No, I am not afraid And I am never further away than I can drive home if I want to.
How long will you live like this?
As long as I think it is cool and fun, and then of course there has to be enough work for me to make a living. So I say it again: Indefinitely.
Where do you have your address?
I have an address in Denmark, as I have my company with a Danish CVR number. I am Danish and pay Danish taxes, so in that way nothing has changed.
I have read in some of the motorhome groups on Facebook that they have unknown address. But since I do not have that need, I have not familiarised myself with the rules of it. Use the search function in these groups to find out what people have done.
Have you considered a Patron account or another solution where people can give something back for all that you give us? I would like to say thank you with a contribution, but I do not need a graphic designer.
It is SO nice to know that there are people who would like to support me for all that I share about my journey and life.
I do not know what I will come up with in the future, but I am working with an e-book about Iceland, so that would be a way to support me by buying it when it comes out.
What is your biggest dream?
That must be visiting Canada, Alaska and New Zealand! I have many dreams, but my thoughts often wander to these place because of the beautiful nature. Norway, the Faroe Islands, Scotland, Australia and South America are also on the list.
What do your friends and family say about your new life?
They think it is super cool! Maybe there were a few that needed to get used to the idea, but by and large, everyone has welcomed it. In fact, there are some who have said "Yes, who else could come up with it!" I choose to interpret it positively.
Which languages ​​do you speak?
Danish and English, and I am working on my German again. There are actually quite a few Germans in the small towns who cannot (or do not want to) speak English, so it gives me a chance to work on my German again when I am there.
Would you like to have children in the future?
Many years ago, I made the decision not to have children. I believe that I am not meant to have children, and I enjoy the children in my life instead. It is a decision I am very happy about.
Are you single?
Yes, it's me and I'm not looking for a man. I feel good in my life as it is. So there is no need to use gunpowder to invite me out, because I answer no thank you.
I love to travel and I always use Google Maps to plan but also to save places afterwards.
MY JOURNEY
Where do you want to go? And are there any limitations?
All of Europe! If you want it more specific, you have to follow me on social media, where I share it occasionally. Nothing is 100% planned far into the future, but I will try to update here regularly.
Updated October 25, 2020
From summer 2019 until Christmas I was in Germany, Czech Republic, Austria, Slovenia, Switzerland, France and a short trip in Italy.
Bumle and I drove home to celebrate Christmas and New Year and to get the roof fixed after an accident in Slovenia.
We then went to the south coast of Spain. The dream was to spend time in the northern Spain, but it got interrupted by Covid-19, so we drove back to Denmark. And here we are now. I enjoy travelling around Denmark. It is wonderful.
I went for a quick trip to Düsseldorf and to Sweden, but besides that Denmark has been my base.
For how long will you be on the road?
For as long as it is possible, and I think it is the coolest thing in the world. For as long as I am happy and healthy - and have customers! So it can be two years, five years, 10 years… who knows.
How do you finance your trip?
I work as a freelance graphic designer, photographer and speaker.
I sell my photos to companies or individuals who want prints hanging in their office, meeting room or in the living room.
Click on the buttons and a new page will open.
There is a large selection of pictures as I have taken thousands of photos over the years.
How do you keep yourself safe? It is not completely safe to drive around and spend the nights in your car in Europe.
I hear that several people are worried about me, but I take one day at a time and use my common sense. Fortunately, only few people end up with an unpleasant experience. And I will not stay home for the rest of my life because something can go wrong.
I live in the now, so I can not run and be afraid that things will happen, which hopefully does not happen. If something happens, I have to take it from there.
Campsites - how and where do you stay?
I have written a blog post about that - read it here
When are you going to Iceland again?
I do not know, but I am definitely going again! I am actually hoping for the Summer of 2021.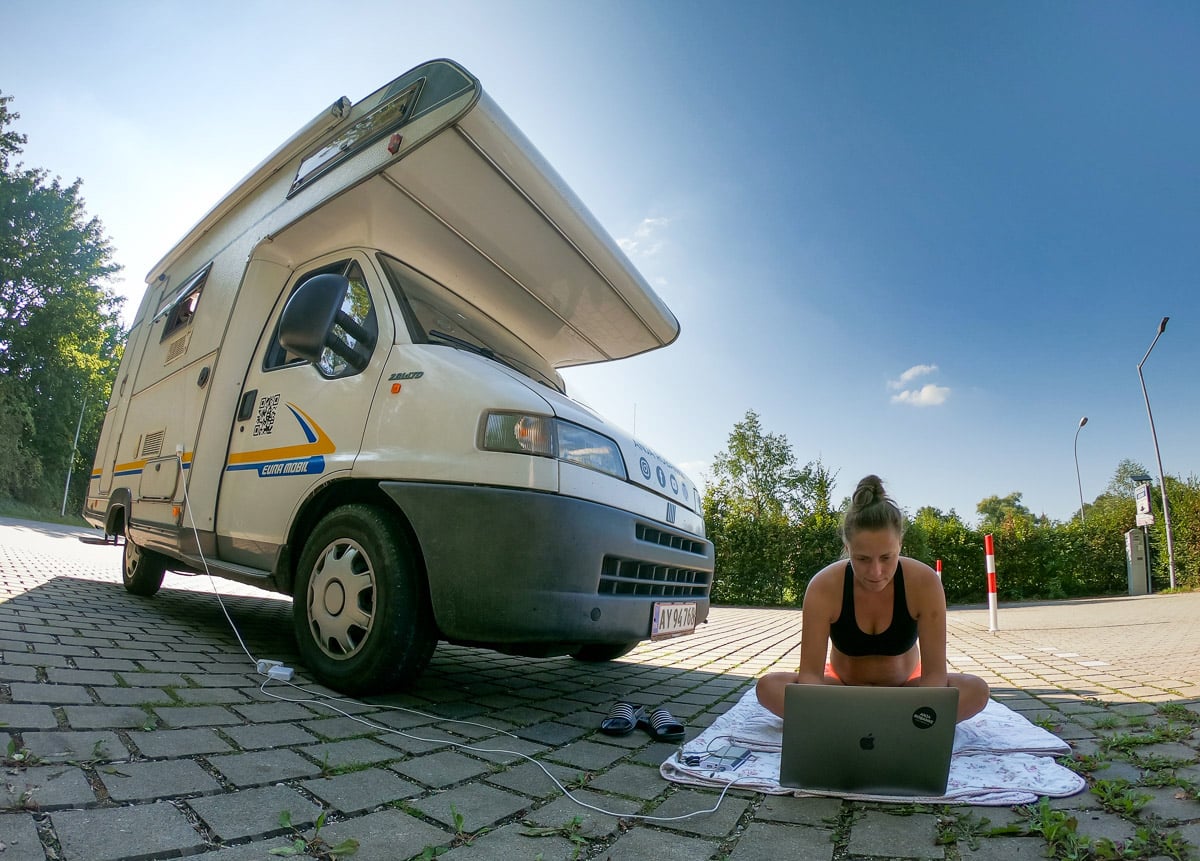 Sometimes it is too hot to sit inside, and then it is out on the carpet in the shade - even on a parking lot. I can really work anywhere. I lock out the surrounding noise, and then I am focused on my task.
MY WORK
I want to do like you. How do you get customers?
Network, network, network and a little more networking. Reach out, be curious and ask questions. And be visible everywhere.
Are most of your customers from Denmark, or do you have customers elsewhere?
Yes, my customers are primarily from Denmark, but I also have customers in other countries. I am open to work with customers in all countries.
Have you noticed any resistance from your customers?
No, not at all. In fact, many customers say "I wish it was me!" Jeg have gained many customers because they want to use me and want to support my lifestyle.
Which internet do you use? And what about large files?
I have 3 mobile; businesses, where I have 20GB with me on the phone. 20GB on a mobile broadband. In addition, I connect to Wi-Fi somewhere, when I need to download or send larger files.
I am planning to buy smaller data packages from different phone companies in the different countries if 20GB is not enough.
If I get a bigger assignment over a longer period of time, I will get a table in small work studio that rent out on a daily basis, or I find an internet café.
A note to Spain where I ran out of data; there I got 100GB per month for 49 € at www.flexnet.es. I talked to a Dane, who suggested that I should buy two months at a time. Definitely a good way for me. And definitely something that I will do again the next time I come to Spain.
In Denmark, I have bought 3 mobile data subscriptions of 1000GB per month, so I do not have to think much about it.
What about mobile subscription?
There I also have 3 Business. This means that I have a really good deal and have 20GB on the phone for all my social media. However, I am tied for three years. But then at least they cannot change the price.
With all the EU data legislation, I have to be in Denmark for 14 days out of four months. And it does not matter which company you have in any EU country.
I hope this will be changed at some point. In fact, I am crossing my fingers that there will be free data in all EU countries.
What camera and gear do you have?
You can see my equipment here.
Which programme do you use to edit your photos?
I do most of it in Adobe Lightroom, but a few things have to go through Adobe Photoshop, eg. retouching.
Which programmes do you generally use?
I use the Adobe suite. I use Indesign for all my graphic layouts - from business cards, brochures to large catalogues. I use Illustrator for graphics and vector graphics. When I edit video, I do it with Premiere Pro.
In addition, I use Word and Excel to handle files with text and numbers from clients.
When I make presentations, Keynote is my favourite. I also use it for my speeches.
My favorite browser is Google Chrome.
I use notes a lot, as it is synced from Mac to iPhone, and thus I can work wherever I have my phone. I might start a blog post on the phone, and continue working on it on the Macbook later.
HUGO
Remember - Hugo has his own page with info here.
Where is Hugo from?
Hugo is from the Spanish brand Ilusion.
I have rented Hugo through TJ Camper for two years.
Why is Hugo a "man"?
This has just always been the case with my cars. Except for "Red Ragnhild" - she was so small and red that I could not think of anything masculine.
I think it is because I have the man in my life with me! And I see us as partners. I did the same with Thorleif. and Bumle. It gives them a personality, and I like that.
What do you pay in weight tax?
2 x 4720 kr.
Where do you have your motorhome insurance?
It has TJ camper has that for me. All other insurances I have at Codan.
Did you deliberately go for a car smaller than six meters?
Yes, because then it costs less on bridges and in tolls. And then it is easy to get around, as well as to park.
Solid bottled gas
It is really smart. I had it installed in Bumle.
When I am bound for Europe again, I have to have it in Hugo, too. It is just not necessary now that I am in Denmark.
I "tank" it as if it was diesel. See the blog post here.
How many liters of water do you have, and is that enough?
I have 60 liters now ,and TJ Camper will upgrade me to 100 liters. For me it is enough. I actually rarely fill it up.
Is it easy to find places to fill up water as well as emptying?
Yes, I have no problem getting with that. An idea is to use the CamperContact app (it only costs DKK 45 per year). You can also see it in the Pintrip app.
Otherwise, there are many highway rest areas.
Sun solar panels
After having 100W on Bumle, I am excited to get 330W on Hugo. I'll probably make an update after some time.
You can read more on Hugo's own page. here.
Feel free to follow me on my Facebook Page and Instagram
If you have a question that has not been answered, please contact me, and I will update the page.