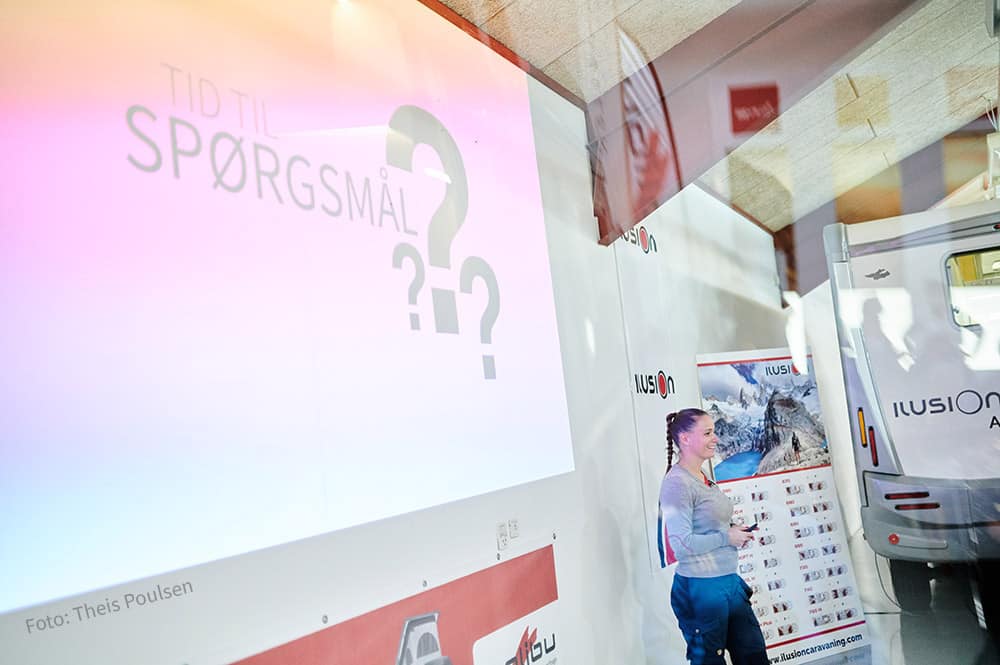 Do you
need someone to speak?
You have the opportunity to book a speak about my minimalist life as a rolling graphic artist and photographer. On this page, you can also see where I give public speaks.
As something new, I give speaks for 1.-2. grade.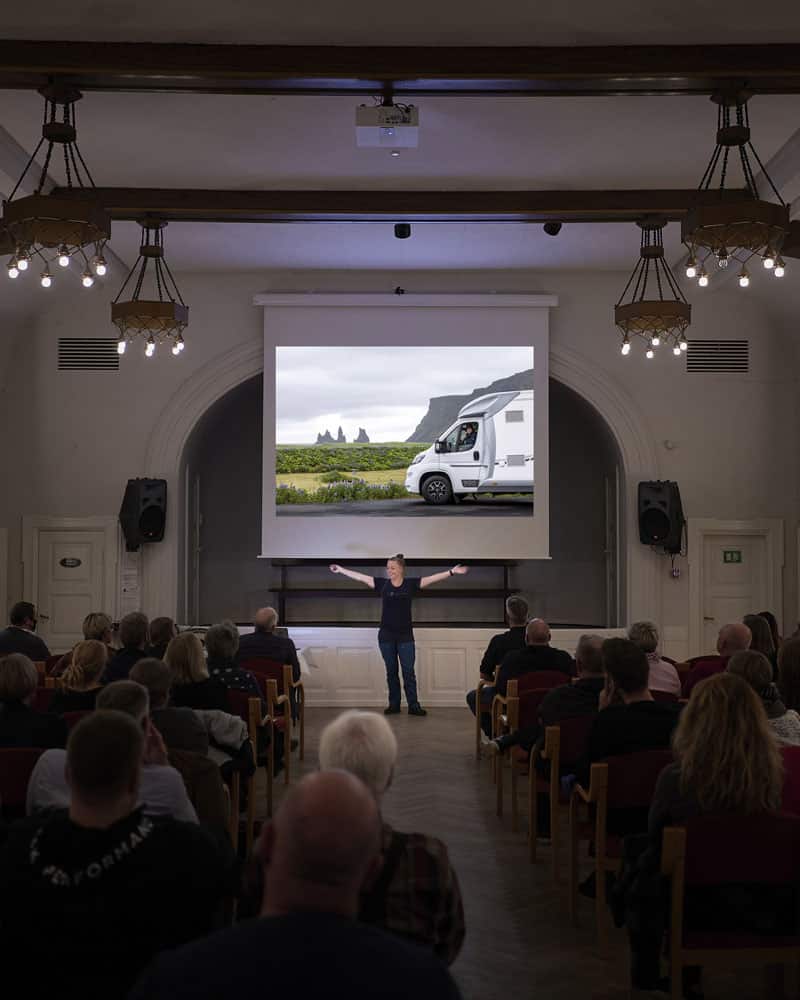 "Iceland certainly helped shape me to where I am today. I could see what was possible with 'work and travel' – so when the opportunity came – I grab the chance."
WORK AND TRAVEL
– Goodbye to the hamster wheel
Duration: 2 x 45 min.
In this pictorial speak, I give a unique insight into his minimalist life and the very different everyday life I live, after giving up my house, my car and selling all my belongings that didn't fit in my motorhome.
The big inspiration for my lifestyle change was born from several longer trips to Iceland, which were made possible by a boss who inspires me to freeliving/workstyle. I saw what in practice could work in relation to the lifestyle, "work & travel". Today, I live my dream – to the great joy of myself and the many thousands of people who follow me on social media and are inspired by the lifestyle I have actively sought out and regularly post about.
My ambition is not that the entire world population should do as I do. My hope is to be able to inspire all to get the best out of our lives and live out their dreams. It requires courage, action and deprivation – one must be ready to challenge ease.
The speak provides answers to many of the questions that naturally arise when the participants imagine that it was they who travelled alone into the world on 4 wheels: Are you never scared? Do not feel lonely? Do you have a plan for where to go? Is life on the country road exclusively pink, or does the hamster wheel also show up, even if you are sitting in the sun on a mountain top – and do not have to show up physically at work on Monday morning?
I will take you on adventures and the whole speak is full of pictures and video clips.
tellings to
1.-2. grade
Together with Tellerup, I have published 'Anja på Eventyr, where I tell real adventures from my life on the road. Since the summer of 2019, I have lived 100% in my motorhome, which at the same time serves as my rolling office while travelling around Europe.
I want to tell you a little bit about how I got the idea to move into a motorhome, how I sold all my stuff. I get into where I sleep, and how practical it is with water and electricity.
I want to tell you about some of the experiences I have had on my way through the years. All the while I tell, I want to show pictures and videos. I want to show the animals, nature and people I have met on my way. I want to take things out of the books and tell about them. So there is a recognition for children if they have read them.
I will tell for 30 minutes and I will from time to time interact with the children in the form of questions where they have to raise their hands. Eg. How many of you tried to be on a camping holiday.
I bring my MacBook and have connectors for HDMI.
You have a screen or TV where I can share my photos along the way. As well as sound if necessary for the room.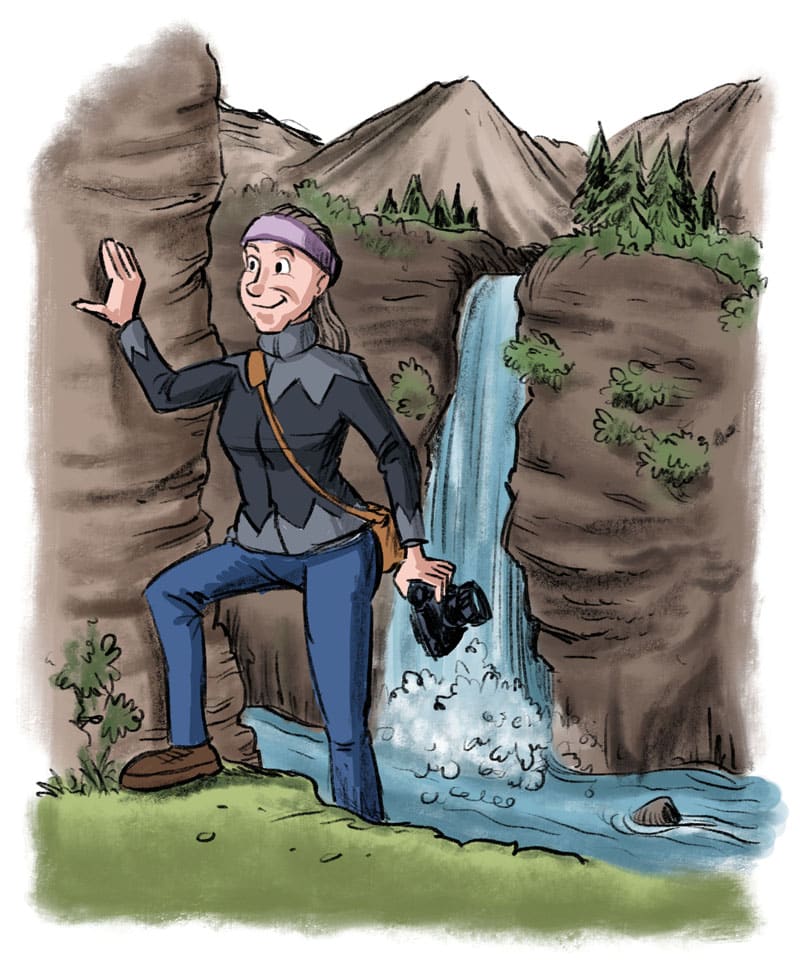 H.C. Andersen said "To travel is to live" – but can one live without traveling? My answer is NO! That is why I live as I do.
Open for everyone
This list will be updated regularly.
(Unfortunately, I can not get you to the private events)
– – – – – – – – – – – – – 
Danish Overlander Meet
25.-28. August 2022 kl. 10.30-11.30
Jeg vil være der hele weekenden. Kom endelig forbi. Husk du kan købe en dagsbillet til lørdagen.
– – – – – – – – – – – – – 
Træf Asaa Havn 2022
I weekenden 9., 10. og 11. september 2022
Jeg vil være der hele weekenden. Jeg glæder mig meget til Autocamper hygge.
Se eventet på deres hjemmeside
– – – – – – – – – – – – – 
Continued open speaks
– – – – – – – – – – – – – 
Livet på vejen i Hugo på Gram Bibliotek
Onsdag d. 14. September 2022 kl. 19.00-21.00
– – – – – – – – – – – – – 
Et liv på hjul ved Anja Robanke
På Gilleleje Bibliotek
Mandag d. 10. Oktober kl 17.00-19.00
– – – – – – – – – – – – – 
Mit farvel til hamsterhjulet på Haslev Bibliotek
Torsdag d. 13. Oktober 2022 kl. 19.00-21.00
– – – – – – – – – – – – – 
Autocamper Show
4. November – 6. November i Messe C i Frederica.
Jeg skal holde foredrag om at rejse med Autocamper til/på Island fredag og lørdag. Nærmere tidspunkter kommer, når programmet er klar.
– – – – – – – – – – – – – 
Vinderup Bibliotek
Tirsdag d. 8. November
Jeg opdaterer her, når billetsalg og mere info er klar
Words from participants and organizer
"Are we going to Iceland and experiencing magnificent nature? That could be the conclusion of a very exciting and inspiring lecture, in which a bunch of photo enthusiasts were presented within West Jutland Nature Photographers. Anja delivers a captivating and beautiful lecture about Iceland with special emphasis on the fantastic nature scenery that can be experienced. She manages to bring the images and experiences to life, so you almost feel like you are with her. Beautiful personal photos of animals and nature spiced with small tricks and good advice. It is quite clear to the audience that she is passionate about nature, and her commitment and good mood can not avoid contagion. Her graphic background shines through clearly in the beautifully arranged presentation."
Jørn Christensen
Vestjyske Naturfotografer (West Jutland Nature Photographers)
"As a speak organizer, Anja Robanke's speak is a great gain. She reaches out widely and hits a large portion of the audience with her uncomplicated and touching narrative style, which also holds a great deal of humour and self-irony. When I arrange a speak, people must leave the speak with a good experience. Here, Anja has a style that appeals to most and which, however, brings to life the feelings of the audience. In addition, the lecture is spiced with beautiful images of great quality, both technically and narratively." 
Carsten Krog Pedersen
KANT Festival
"
Anja's speak on Iceland is simply the best 'travel-motivation-photography-experience-speak' I have heard in a long time.
Anja is an excellent narrator with infectious humor, great multimedia presentation, performed with smiles and self-irony. But, first of all, she is a cheerful soul who simply loves life and the experiences of nature – and loves to share it with us."
Henrik Sørensen
ISO8000
"Participated in the speech at FOF on 29/10 in Vejle. Anja shares her experiences and impressions in an honest and empathetic way – completely without filter. We travelled around the world accompanied by pictures and experiences from Austria, Slovenia, Spain, Iceland – and not the least Denmark. Anja loves nature, and she is good at conveying this love. She is contagious – in the good way. Two days later I was standing – armed with various cameras – at 06.30 in the fog in Lille Vildmose and waited for the sun to rise."
Jens Strandberg
"Thank you so much for an inspiring speak this Saturday with us at AFA photo club. You have a personal story to tell and that makes your presentation solid. Your free life on the road is documented in a beautifully graphic way via pictures and films and it also shows that the dissemination of images is usually about storytelling and the creation of atmosphere. Thanks for the inspiration."
Morten – AFA fotoklub
"I was so lucky to see Anja's speech at a FotoMalia event. It was so cool to "be part of the journey", from planning the trip, thinking about places to visit, and seeing the most beautiful landscape pictures I have seen in a long time. Anja's lecture is a must for anyone who loves to travel, anyone who appreciates a person who lives with an open mind, those who love photography, and those who would like to hear a true adventure.
Huge recommendation from me."
Mads Bo
"Thank you very much for a great speak at the Motorhome fair. It was as if we were with you on the whole trip to Iceland. We would like to put a few words on you, what we think you contain, as a person. You have a lot of courage. You are welcoming and smiling. You radiate a lot of energy. You have the joy in life. You're creative. You provide a lot of inspiration. You are one of a kind.
We never get enough of you and your wonderful beautiful pictures/videos. Thank you and keep up the good work for you and Hugo.
Huge recommendation from me. "
Ellen & Leif / Couple driving motorhome