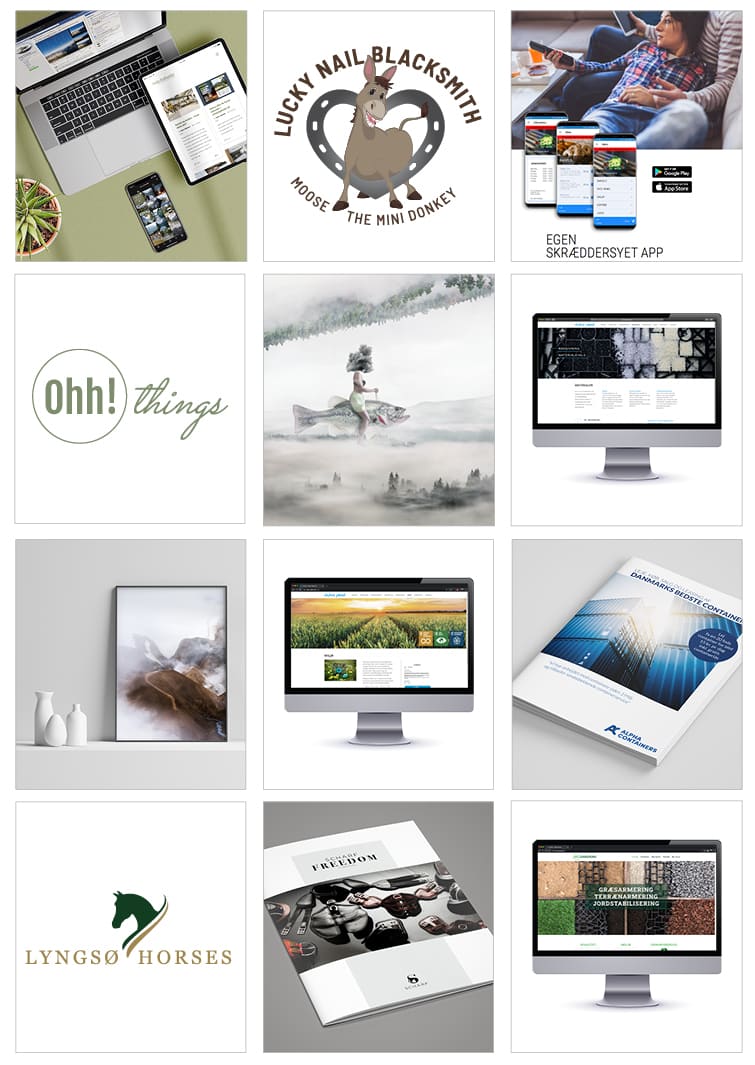 Do you
need a graphic designer ?
I have a wide range of qualifications and 17 years of experience – both from an advertising agency and as an in-house graphic designer before I started as a freelancer.
Oversættelsesresultater
Landing pages / one pages

Website design in WordPress
Website update
Newsletters
Logos
Business card
Stationery
Brochures
Member magazines
Customer magazines
Annual reports
Books
Ads
Social Media
Sign design
Image editing
Image manipulation
1 HOUR
Fixed hourly rate = DKK 850
10-20 TIMER
If you need me over a period of time, you can buy an hourly rate card in advance and get cheaper hours.
20-hours = DKK 14.000 (DKK 700 / hour)
Prices are ex. VAT. and the card are valid for six months.
BENEFITS OF CARDS
Your hourly rate gets lower the more hours you buy.
You only pay for the time used.
There is always help – big or small without having to invoice every time.
"Anja has been a huge help to several graphic productions in the agency. Tasks with great complexity became so playfully easy for everyone around Anja. She went on with the tasks with enthusiasm, and we have never met a freelancer with such a positive attitude.
Anja is not only graphically proficient but also insightful and responsible. We achieved a number of major tasks in a short amount of time, to the great satisfaction of the customer and us"
René Kirkegaard / CEO, Aidgency
"SCHARF has for a long time been looking for a super skilled graphic designer, who can work independently, quickly, and who in particular is flexible and easy to communicate with. We know Anja Robanke from SoMe, where we are very interested in her exciting journey. Anja is the right one for us, as she is more than flexible and meets all deadlines to perfection. Anja works independently and is full of great ideas and has solutions to all problems. Our new digital brochure more than lives up to our expectations, and we look forward to future collaboration with Anja "
Christina Scharf / Owner, Scharf
"It has been a great pleasure to have Anja Robanke on my adventure in the development of 'Bare God Mad' and the website she has created. Cool design, good ideas and lots of courage on the part of Anja, my best recommendations from here to Anja and future customers who want a trip to 1st Class"
Martin Andersen / Bare God Mad
"For a few months, we had been looking for a skilled and flexible freelance graphic designer who could solve large as well as small graphic tasks. We found Anja via LinkedIn, and it was just the right match. Anja is incredibly flexible, always delivers on time, constantly comes up with good ideas, and the communication works great, even though it all takes place via e-mail and Skype. ALPHA Containers A/S can 100% recommend Anja for any graphic task"
Rasmus Nørgaard / ALPHA Containers A/S
"We asked Anja to be in charge of all the graphics around our new product. Logo, business card, some pictures, flyers, website. The website and the graphic expression should be simple, and it should be done quickly.
In record time – and on time, Anja got it all done and it's exactly as it should be. Thank you Anja for another fantastic collaboration"
Kasper Dunvad / Bioarmering A/S