Over the course of 17 years, I have acquired a wide range of qualifications. Both from an advertising agency and as an in-house graphic designer, before I started as a freelancer in 2019.
I have worked on a myriad of tasks such as websites, brochures, flyers, logos, member magazines, social media, sign design.
Please see more about my skills and prices at the link below
You are always welcome to contact me and hear more about how I can help you.
I will be glad to hear from you.
You can call +45 61 71 44 41
or send an email to anja@robanke.dk
Bakery, catering & take away
Besides photos, I do all graphic work for Bare God Mad. I redesigned their website and entire marketing.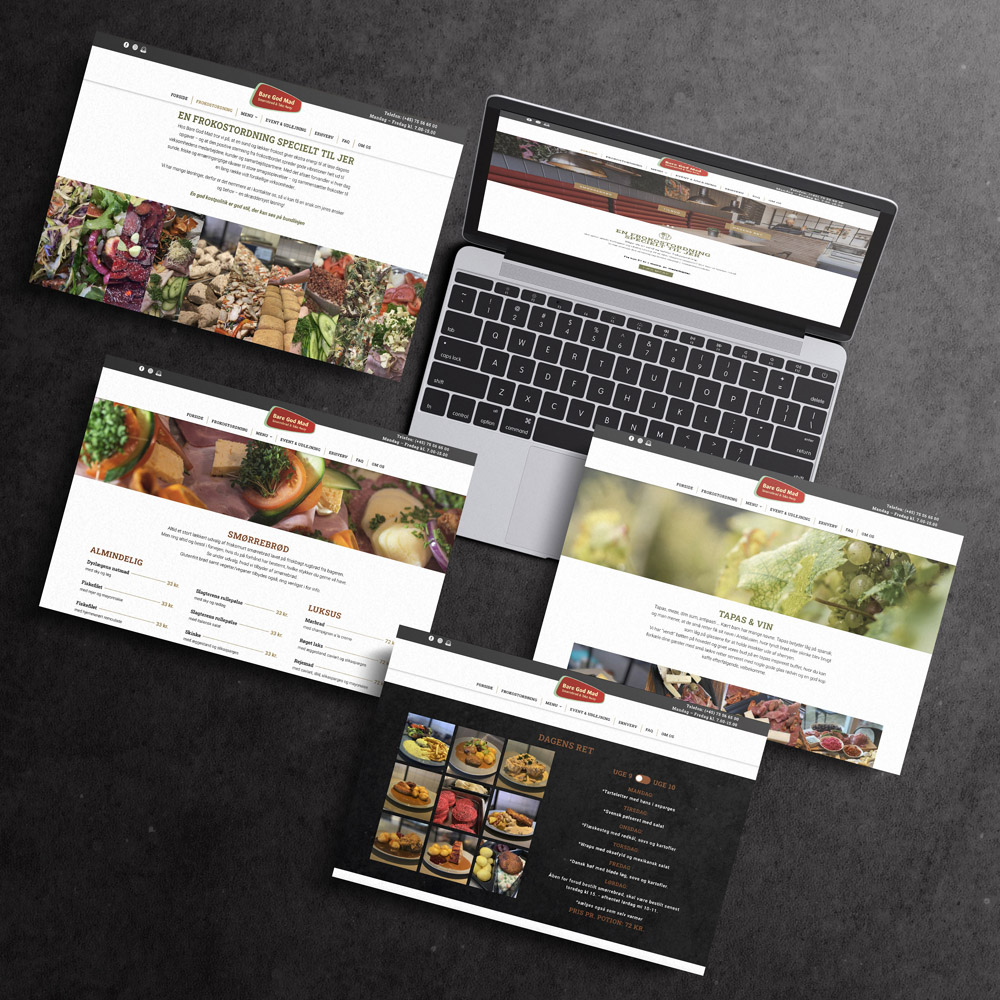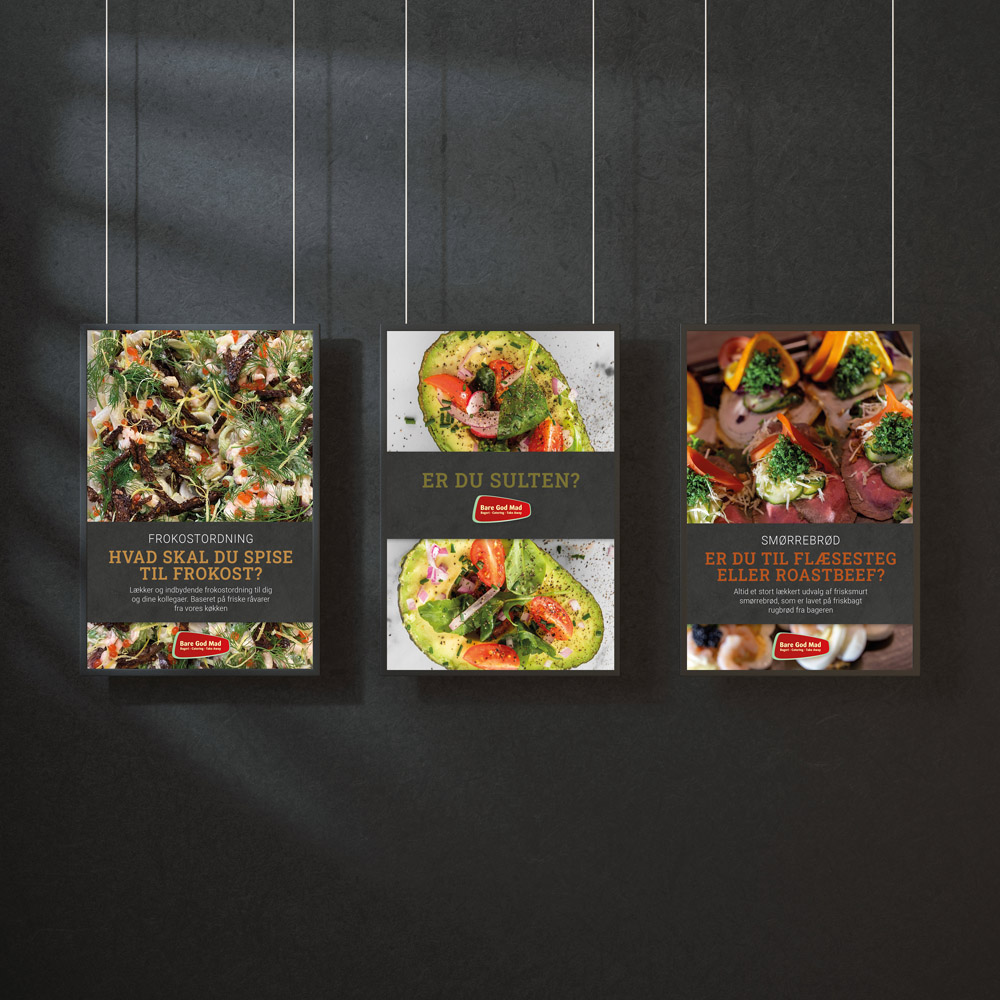 STATEMENT from Martin Andersen, owner.
"It has been a great pleasure to have Anja Robanke along on my adventure in the development of Bare God Mad and the website she has created. Cool design, good ideas and lots of courage on Anja's part, my best recommendations from here to Anja and future customers who want a trip in 1st Class"
I have the pleasure of working closely with Christina Scharf. It's everything from the website to her brochure. I have also taken some of her products to Iceland, where I took product photos in the Icelandic landscape.
STATEMENT from Christina Scharf, Owner.
"I have worked with Anja for a few years. She has, among other things, made my SCHARF Freedom brochure in several languages. And now we have launched a new website with a webshop. Anja has been responsible for the design and construction of the site. I always get a better solution than I imagined and she has thought it through to the smallest detail. She is efficient and the quality is always top notch. It is important to me that I feel safe and we have a fantastic collaboration. She is always positive and we have good communication. Anja gets my warmest recommendations and I look forward to a future collaboration"
Tandlægerne Store Torv, Århus
Lone Sander wanted a nice personnel handbook for her employees. When Carina Robanke had finished preparing it, Lone asked me to design them with my photos, as she wanted nature as the supporting element and not for them to look at photos from the dental industry.
STATEMENT from Lone Sander, Dentist, Ph.d. & clinic owner.
"How do you make a handbook for the company's staff interesting?
Using stylish graphic work with classic and simple design – added fantastic photos with nature as a bearing impression. The process with a wealth of ideas and enormous flexibility – deliveries and agreements on time. And the next time graphic products are used, it will also be Anja Robanke who adds a fresh and dynamic dimension to her profession."

Rie contacted me when she needed help with a logo and a simple website. We spoke afterwards on the phone, as I want my clients to put their business and visions into words.
Rie was really good at putting things into words so I could see it visually. We had a good dialogue about colors and the importance of colors in her work. And we agreed that it had to be colorful.
When I see Rie's finished website, I have never done anything like that before. It has been an exciting task and I have also worked with my gut feeling. When I think of Rie and I feel what she has to offer, it is SO REAL – what we have created. I am happy with our collaboration and satisfied with the finished result.
When we finished with the logo and website, I chose to buy a treatment from her. It was a really positive experience and in the initial conversation, I could feel myself opening up completely to her. And I left there again with a smile and a good feeling in my body. I have subsequently been able to shut down some negative things that filled my life. And I smile back and think she had a hand in it.
So I can highly recommend Rie too 🙂
STATEMENT from Rie Fløe, Owner
"I have had an extremely rewarding collaboration with Anja in connection with the creation of a logo and website as an alternative treatment. Anja has good intuitive skills and has thus managed to implement my thoughts and ideas into the logo and website, in a way that I feel the ownership. I have experienced that Anja has been present, constructive and realistic in our discussions.
The collaboration has been respectful and Anja has made it a good process with her positive and creative approach. With her broad experience, she has also been able to make individual recommendations that I can use in the future."
My mother became self-employed in September 2020 and wanted me to be her graphic designer and photographer. I designed her logo, made business cards, flyers and her website. In addition, I took her branding photos. It was an exciting process to design for my own mother and I think we complement each other very well.
STATEMENT from Carina Robanke
"I have never had any doubt that it was Anja who was to prepare my material. The reason is quite simple – Anja just does it well. Her Nordic and simple design suits me really well and she was quick to sense where I wanted to go with my choices. The colors were important to me and Anja quickly found the colors I wanted. In addition to the colors, she also made suggestions for the typeface.
Anja is creative and good at finding opportunities that we work with. It is a great advantage when you, like me, have no understanding of graphic work at all. Although knowing each other well can be a disadvantage, in this context it has only an advantage."
I made their logo, website and flyers. I stand by their marketing.
STATEMENT from Kasper Dunvad
"We asked Anja to be responsible for all the graphics around our new product. Logo, business card, pictures, flyers website. The website and the graphic expression had to be simple and it had to be made quickly. In record time – and on time, Anja got it all done and it is exactly as it should be.
Thank you Anja for another fantastic collaboration."
You are always welcome to contact me and hear more about how I can help you.
I will be glad to hear from you.
You can call +45 61 71 44 41
or send an email to anja@robanke.dk
Please see more about my skills and prices at the link below
IN ADDITION TO GRAPHICS, I AM TOO
Some of my clients also use me to take pictures. Therefore, you can see the photo cases at the link below