One of my dreams has come true! I've seen bears out in the wild. And I love it. It was such an intense feeling to sit in that hiding place and just see them right out there in front of me.
I have chosen to write this blog post a little differently and longer than I usually do. It will be a five-day diary with my bear's experiences. This has been a dream for many years, and I would like to share details and feelings about this experience here.
If you do not care to read and just want to watch the video, scroll down 🙂
The prehistory is that someone in Denmark has recommended me this place to me, but it would not be possible, because I drove past the area in February towards Croatia. However, they first have a season from May to September, so I shot this thought from me.
But then I heard from Nina, a photographer from Slovenia, that some of the bears had woken up. So I wrote to Miha from slovenianbears.com and asked if it was possible. And he welcomed me 🙂
The place is located in the region Notranjska in Slovenia. I have written some practical information at the bottom of the blog post.
Day 1
I woke up a little outside in Ljubljana. I knew what a day it was… I knew that my bears weekend would start soon, and it just gave me a morning smile 🙂
I meet Miha from Slovenian bears. He worked with slovenianbears.com for eight years, but before that, he had already been out in nature with the bears as a hobby and learning their behaviour. His great passion is to find good places, build hides, give people a good experience with the bears, and tell and explain about visitors about the bears.
He offered me a cup of tea while he told me about the area and the people, and the relationship. The bears must remain wild, and therefore a law has been made whether it is forbidden to feed them in the cities. Their bins are specially made so that only humans can get into them. They do everything to keep them out in the mountains. The bears are then regulated by a hunters association every year, where they have a quota. There is, at times, quite a bit of politics in it. But Miha says in comparison with other countries around them; then they have a good calm and balance.
There is still damage for approx. € 100,000 per year. And that corresponds to approx to what comes in from tourism revenue on bears, so it goes straight up. Damages can be, for example, trees with broken branches on apple trees, destroying straw bales, bee farms and sheep. But most people have now had fencing made. And since they keep the bears wild in the wild and feed them in the mountains, there is not much damage that happens anymore.
Several of the locals had told me independently that in the old days before they joined the EU, they threw all their leftovers from the slaughterhouses out to them in the woods and back then, they never had any problems. But it was banned for them when they joined the EU, and several say there were quite a few changes in the bears at the time. However, there have been better balance in it again, even though there are injuries.
A sweet story was when a man did not have problems with bears but instead mice that destroyed his kitchen garden. Then he applied for injury money, just like people with bears. But he was rejected 😉
Most people live in peace. And the bears are that part of life in Slovenia.
After drinking tea and getting the information about what I was going to do, I went out and packed the last one and got dressed in many warm clothes. Then, he picked me up in his four-wheel-drive Nissan, after which we drove up into the mountains.
We parked at the front of a steep gravel road. There were approx. 700 meters up. Miha thinks it's good to go up there, so you get a sense of the forest before you go in and sit still in the hide. And I very much agree. As my back improves, I ask Miha if he wants to carry my heavy photo bag. It's a little hard to ask when I tend to be a self-in-depended woman. But I remember the pain so clearly so I had to ask him and he would very much like to help me.
When we arrive, there are three hides with room for 2 in each. I'm lucky I'm alone and can set up both my cameras 🙂
Miha sprinkles some corn into the landscape, and I put my equipment ready. He clarifies that I have to be very calm, not say anything (I wonder if I look like someone who talks to myself because I actually do that regularly… haha). I must not rattle with bags or push the chair forward and back. Just keep quiet. These things can scare the bears away.
I have to stay in the hideout and only open up when he comes to pick me up again.
Everything is ready; I'm ready, the equipment is ready. I'm excited. It's minus degrees, but I'm wrapped in wool from head to toe.
The light is so lovely, and the birds are singing. I enjoy the silence, and I can only faintly hear a vehicle now and then very far in the distance. Quite a few pigeons are enjoying themselves and a woodpecker that comes by sometimes.
Late in the afternoon, I can hear something going on the right of the hide. There are no windows, but the bear comes out so I can see it. My heart beats an extra beat. I wanted to grab the camera. But remember from what Miha has said, also what I have experienced when I lie in hiding; Eeeeeasy. Not fast movements after the camera 😉
It goes straight out and away from the hide. I see a butt and I cheer inside. It turns and looks around before moving on.
It goes a little round and I actually only discover when I get home that I have a few pictures of it, it looks at me = my hide. So I'm tricked, I think. But after talking to Miha, he said they see well, but they hear and smell really good. So he does not think it has seen me. It goes behind some trees and there it eats a little and lays down. I can see its ears peeking in between. It rises and I get some pictures before it disappears further into the forest again.
Before the sun goes down, I enjoy 2 animals walking and eating. It is very peaceful and I could hear Miha's car in the distance and I started packing.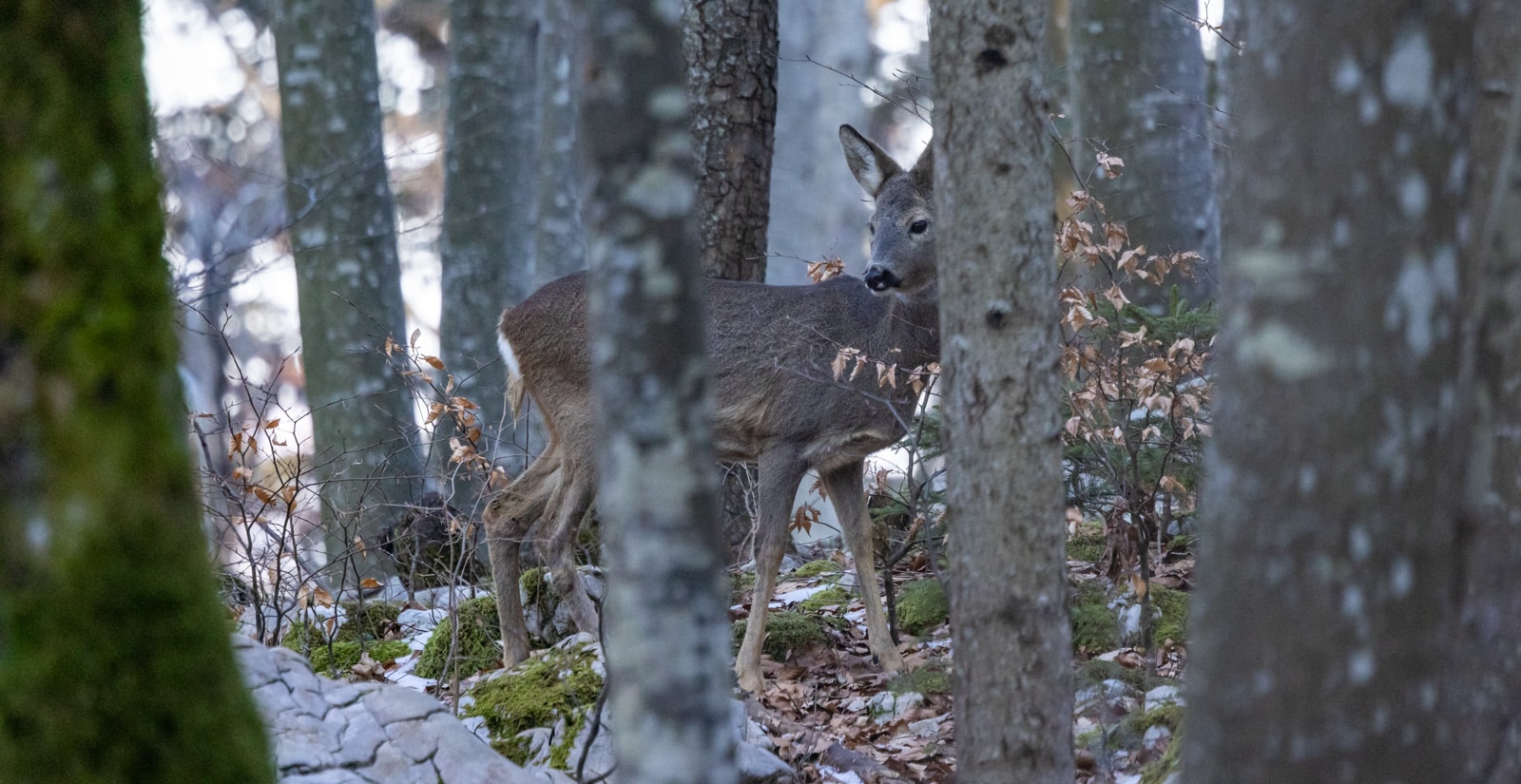 When we get back, I choose to drive down to the local Restaurant Škriban to get some food. I got this dish, and it was super good. In Slovenian it is called: Divjačinski golaš Sirovi štrukji. And actually decided to come back there a few days after 😉
I also got pancakes for dessert with ice cream and whipped cream. I will say, though, it was a stupid decision because I got too full and had trouble sleeping … haha …
Day 2
I woke up so excited. Miha picked me up at 13, and we drove out the same place as the day before. Today, we went up, so we only walked the last 100 meters.
I got ready with the same setup as the day before. I also took GoPro's with me. The day went by, and it was SO extremely quiet. Not a wind, and I felt if I hit a fart would the whole forest resound… haha… but sat so still that my legs stopped with the blood circulation. I wrote with Miha at the end of the afternoon, and not much happened. A herd of pigeons and two animals came and ate just like the day before. And just before the sun went down, he came and picked me up.
It was mega annoying. I had felt inside that it was going to be my day. So, of course, I was disappointed, but I also know that these are wild animals in the wild. It is not a zoo where they just stand behind a wall. And something is charming about that too. BUT still, it's mega annoying.
I'm going to bed now and will look forward to tomorrow. Miha says he will drive me out to another spot where two bears have been seen today. So I cheer on 🙂
Day 3
I woke up early, and the thoughts flew in my head. Wonder if I would see bears today. I had agreed with Miha the day before that we would drive out and look for owls in the morning, and he picked me up at 10 o'clock. We drove out a few different places, and he showed me one of the places bears sleep in between. But unfortunately, we saw no owls, but we saw a lot of beautiful nature.
Miha told me he had seen on camera that the bear had come the day before, 30 minutes after picking me up. But there it would be too dark on this side of the mountain to be able to have filmed or taken pictures.
I started preparing to leave for a new location when we got back. It was further away. We drove most of the trip up the mountain on gravel roads with turns and potholes in the road.
We came up to the place, and there were 3 hides. I get into the middle, and Miha goes out and gets ready with corn while I put all my gear up. Because I know when I sit down, I will not move by as much as 2 mm with that chair.
I'm excited; I think the place is very inviting. And think it is perfect, there are no leaves on yet. And just as I think about it, 2 bears rushing in from the left in front of me. My heart beat fast. Got the cameras turned on. I have my cameras upstairs and my iPhone, which film non-stop, even though it's poor quality. My 24-70 mm does not come that close. With my 100-500mm, I switch between taking pictures and video.
Shortly after they arrive, they run away again, but they are right over at the hide to my left. My iPhone can just manage to film a bit at that angle. They are there for about 5 minutes, after which they come back to me. They consider me by no means, and they are so calm and eat a lot. A few times, they looked up to make sure that they didn't have any other company. It was all just so exciting. Imagine that such a large animal was right out there in front of me, and it had no idea I was there. I enjoy being able to see animals in the wild this way. Then, after exactly 39 minutes, I'm alone again. One bear had run away while I was busy looking at the bear closest to me. And then the last one ran away down behind.
I sat back and cheered. I wanted to sing and dance, but I did a quiet victory dance, as you can see in the YouTube video below. Jubiii, I was HAPPY!
When Miha comes and opens the door, I jump out and hug him. We drove back towards the guesthouse, where I spent the night with Hugo in the parking lot. I agree with Miha that I should come up to this location again. Then take a 4 + 5 day too 🙂 Super cool!
Here are the pictures I got. I'm so glad I managed to get this experience and some pictures 🙂
Day 4 +5
Miha drives me back to the same hide with the two bears the day before. It's easy to set up now. I know exactly what I want, and shortly after, I sit still in warm woollen clothes with a blanket over me. Time goes by, and nothing happens any of the days. And before I know it, Miha is knocking on the door to pick me up.
Unfortunately, there was no luck, and at the second hide, there had been no activity either. We have to remember that it's out of season and that they have not really started yet.
But I feel grateful to have had the opportunity to see them succeed.
Miha kept an eye out for a few days afterwards, but no luck and I drove on.
YouTube video
I have collected the moods from my days at Slovenianbears which ended with a short video.
Practical info
They have 7 different locations with 3-4 hides each place. There is room for 2 people in each hide. I had that luxury and had both holes for my 2 cameras.
You are safe inside the hiding places. However, you will be brought and picked up in the shed and may not go outside on your own.
It costs from 180 € per. day. And I paid 180 €. But I do not know what it costs in high season. Some will probably think wow that's a lot of money. But when you start and count on salaries, cameras, car, diesel, food, build hides and the knowledge they have to track the bears. So I actually think that's fair enough.
Miha has responded quickly to all emails, and we quickly found out when.
He told me that 90% in May and June are fully booked. July they have 2 weeks holiday. But otherwise, from July to September there are still places free – If you dream of an experience in their beautiful forests with bears, you must book soon.
There is a guest house you can book into. However, I chose to sleep in Hugo in the parking lot. And they were nice to give me power 🙂
You can read more and contact Miha via the website slovenianbears.com
Even though the bears were not so cooperative every day 😉 it has been a positive experience. This was my first time in a paying hide. But I think I have to find a place in Spain – possibly with birds or something exciting. If you have an excellent tip for a place, then please write below in the comment 🙂
Bears greet
Anja