I am at the beautiful Vestmannaeyjar, south of Iceland's coast, where a heartwarming story of the rescue and protection of one of my most beloved animals, the puffins, happens every year.
My visit this year is too early, because only 3 young puffins, also called pufflings, have been recorded. 2 years ago, when I was last here, the rescue work was in full swing. Generally, it is later and later in the year as the weather is warmer and warmer.
But this year, instead, I had a rewarding conversation with three people who live on the island and have close contact with the puffins. First I had lunch with Margrét Lilja, who some of my friends know and have put me in touch with. She has worked at the Sea Life Trust, Ewa Malinowska now works. After lunch with them, I meet with Rodrigo A. Martínez Catalan, who works for Náttúrustofa Suðurlands (Nature Research Institute of the South of Iceland).
They all tell me that they started saving publicly in 2003, but there are stories of people doing it long before that. Margrét tells how her father also helped before it was registered.
I had a rewarding conversation with all three of them and also got the link to the video they have been a part of. So it makes it easier for people to help collect and save puffin babies.
In the video, they talk about the puffling season. The puffins that have bred here are now heading out to sea where they will spend the winter. And their young, called pufflings, come along, of course. Sometimes pufflings get distracted by city lights, and humans have to step in to help.
The puffling patrol prepares in every house for the evening and night. Warm clothes, flashlights and reflectors are standard equipment. It is best to place the pufflings in clean cardboard boxes. Pufflings can get hurt if they try to escape, especially if they are kept in very low boxes with holes. Plastic boxes are unsuitable. It is a good idea to put fresh grass at the bottom of the box and change it daily.
It is easier to catch puffins in a group. They are afraid of the rescuers and try to run away and hide. You should avoid chasing them against pallets and containers, as this provides good hiding places and it can be difficult to reach them. The light from the flashlight can temporarily blind a puffin and make it easier to catch. This makes the process less stressful for both the puffer and the rescuers.
We carefully approach the puffling and carefully lift it up. Pufflings are not used to being with other pufflings and become stressed if many are kept in one box. It is best to have one puffling in a box, never more than four. They all want to hide in the corner.
When we are back at home, we place the pufflings in a safe and quiet place, provide closed boxes and a room that is not too hot. It is important not to handle pufflings more than necessary and to remember that they are not toys. Some puffins can also hide at night and be found in the morning.
Weighing puffins is not necessary, but it is a good idea if possible. Pets should not participate. All puffins found are registered on the website lundi.is, including those that are not weighed.
It is important to release the pufflings as soon as possible. You can choose from many places on the island. But the weather must always be taken into account. If the wind is strong and comes from the west with high waves, there is more shelter on the eastern part of the island. Always be careful near the rocks and adult supervision is always recommended. You can also let the puffling move towards the water itself. Remember to take back your cardboard boxes and throw them away when they are dirty. Never release a puffling in or near the harbour. There is a high risk of them getting oil on their feathers, which is harmful. Now the pufflings have begun their long journey towards the puffins' wintering grounds together with their parents and other pufflings.
After watching the video, I felt enriched. It was exactly the kind of video I wanted to make. I wanted to share and spread the story of how to help and how others can contribute. Although I probably would have had my own approach, the most important thing is to spread the good news ❤️
Pictures from 2021
It was a great experience to experience this a few years ago. And yes, it's a shame the sweet pufflings are still in the rescue. But I got so much other good out of the trip out here.
Video from 2021
Here, a nice family allows me to try to help with puffling.
Video with an explanation from 2021
Here I get an explanation from a sweet Icelandic family about what is happening. I feel lucky to have experienced these things in 2021 before breaking my ankle in this place with a puffling in hand.
Rodrigo told me at the end of our conversation that Vestmannaeyjar is home to research that has provided a deeper understanding of puffin behavior and migration. He shared details of GLS devices attached to the puffins' legs, which have helped researchers map their movements and migration patterns.
They measure and weigh them and follow the development around Iceland. I also recently read that over the last 30 years the population has declined by 70% – however it is persistent or increasing on Grímsey. They think it's because it's colder up north.
I got these posters from Rodrigo. They were on site and can give more numbers to those of you who are interested 🙂
I promised to send him the pictures I took of the puffins with fish in their beaks from Grímsey. So they can see which fish they bring in for the pufflings. It would be great to be able to help with some research, as I have to go back to Grímsey every year.
I finally ask Rodrigo why they don't turn off the lights in the city and he tells me that they have started to turn off a lot at the harbor and that has significantly reduced pufflings in the city.
The next day I visit SEA LIFE TRUST

Ewa Malinowska works here and has for the past 3 years. She shows me around and first gets some fish, as we have to go in and feed the little puffling, they look after it until it is big and ready to go out into the open again. It will not come out until all the down is gone and it is in full plumage.
They also had an adult puffin that was found a few weeks ago completely covered in oil. They get it washed and this one has been washed 3 times. She tells me the process because they can't wash them every day. They must have peace in between so as not to get stressed. And she says that both the little puffling and this adult must be tested in an indoor bath, whether they are ready for life at sea again.
Photo credit: The SEA LIFE TRUST Beluga Whale Sanctuary
Here, the oiled puffin has had its first bath.
Photo credit: The SEA LIFE TRUST Beluga Whale Sanctuary
It sits here ready and has been washed 3 times and will soon be tested to see if it is ready for free life again. The red light is a warm lamp.
A big thank you to Margrét, Ewa and Rodrigo for their time and for sharing their knowledge. They remind me that our actions can make a difference and spread the good news.
With puffin greetings, Anja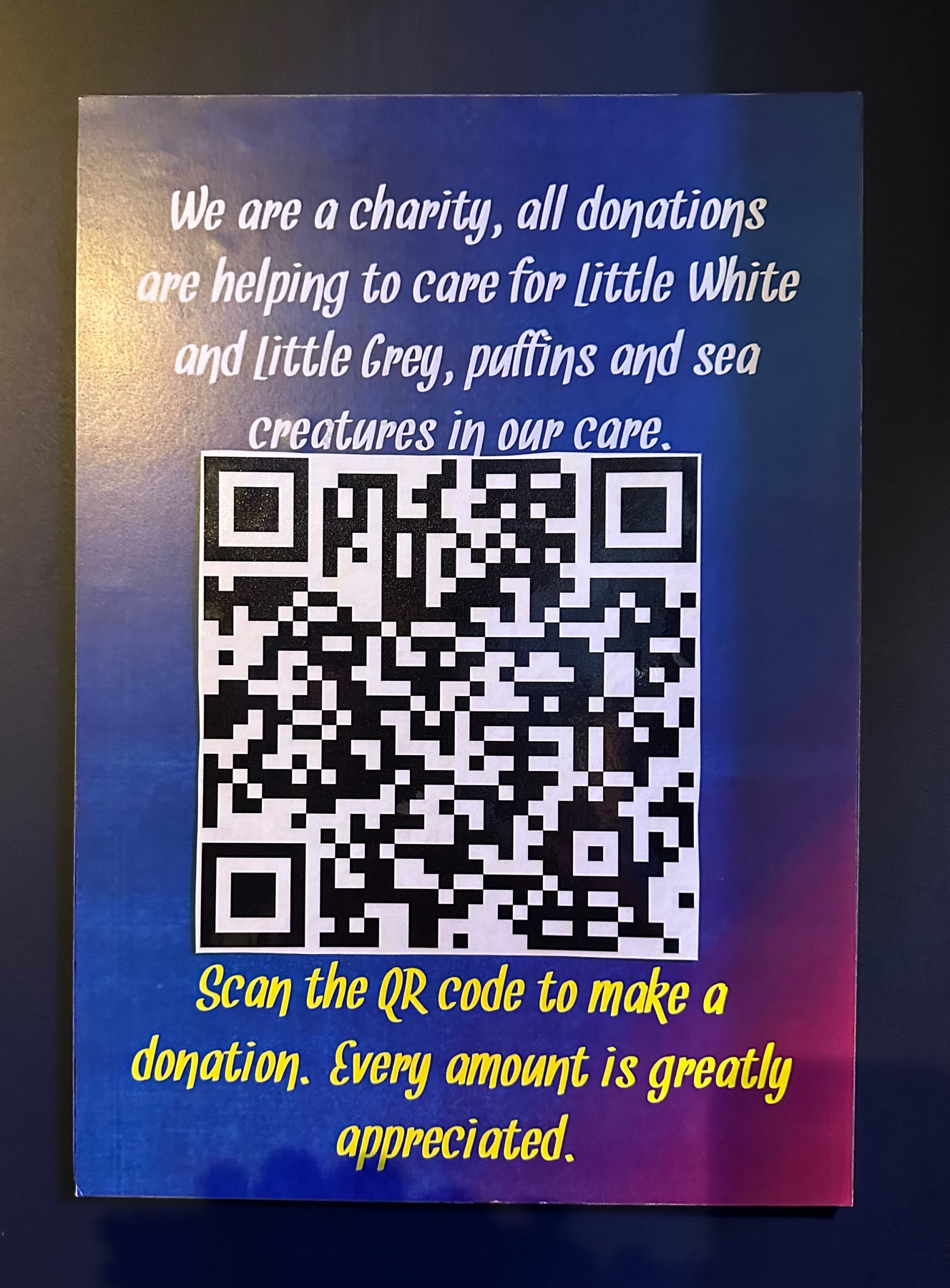 DONATION
It is possible to help the puffins by donating money to the Sea Life Trust.
You also have the opportunity to read about their project with the Beluga whales. I have purposely not gone into detail about them, since this blog post is about the puffins.
But they have a project where they are working on being able to set these two free in the future.
All this help takes place at Vestmannaeyar.
You can read more on their website:
https://belugasanctuary.sealifetrust.org/en/
If you want to read about my broken ankle here at Vestmannaeyjar, click on the link below