A city that hit me a little more than most 😉 after a few days here and I have planted a seed! Now it must be watered and fertilized and one day I will reap the experience…
A seed that I will go Camino one day! Yeah Al that sounds pretty crap to me, It Looks like 2 days ago I've never going to do that to the whole world! But after spending hours around the city and sitting in the square by the cathedral, I must admit that something happened inside me! I can feel that I have to walk it one day, I do not know when or which one of the routes, but I can feel that I have to 🙂 My feeling says it from France – 780 km 🙂
I arrived in the late afternoon at a small motorhome site overlooking Santiago. I parked in the first row right by the pool, which turned out to be so extremely cold that I could only endure being there for a maximum of 30 seconds… haha… but I was cooled down and that was probably really what I needed for in this heat! The temperature these few days is 28-29 ° And it's a bit of a challenge for me. But I think it gets better and better with the habituation 🙂
I was actually supposed to go down to the city the next day, but some move tomorrow and I left to get down and feel the atmosphere. It was during the Ascension holiday. And the same was true down here. That is the holidays.
There was a nice atmosphere in the city and the first thing I did was go straight to the cathedral and the square in front. No matter which way you go (there are several Caminos)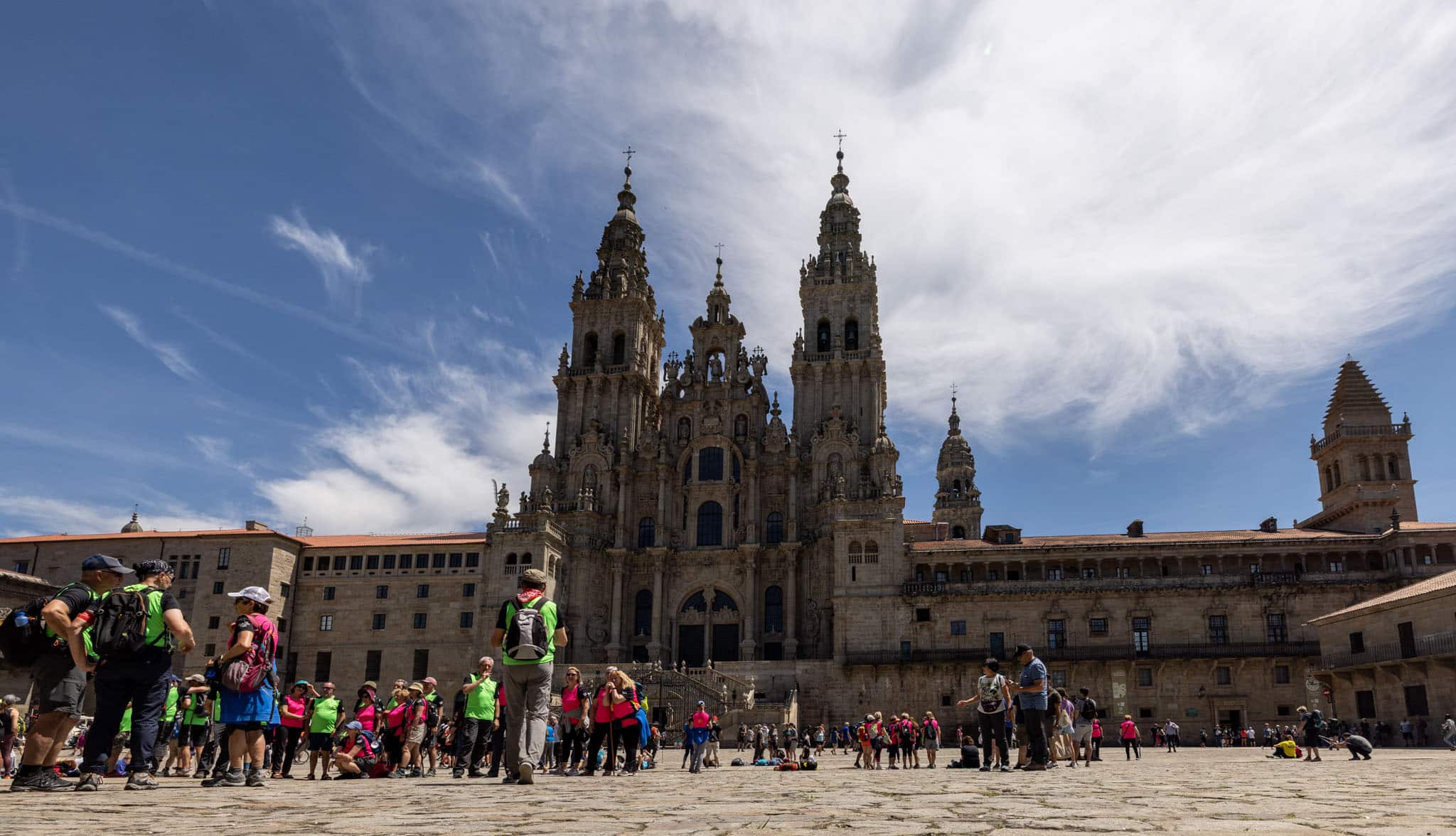 I chose to go inside because I had heard it was a sight I must not miss. I have no expectations, so I have to admit I was a little wowed over how magnificent it was.
I sat down in the square and mediated the atmosphere when the pilgrims entered the square. Felt their joy and redemption.
Afterwards, I walked around for a few hours in the old town I was in and looked at some shops. The old town has a wonderful atmosphere and a vibration which is very different from many other places I have experienced.
Towards evening I got something to eat and that meal completely knocked me to the floor, I was simply so tired of impressions and heavy food, so I chose to take the bus back to the campsite and go to bed.
The next day I went down there again. I probably sat there for 2-3 hours in the square and just looked at people and felt the atmosphere. And the seed was really planted in me. One day .. in the future… then I take 1.5 months off and go it!
Have you walked it? What was the coolest thing? What was your biggest challenge? Feel free to write a comment below, I have become SO curious about it 🙂
Adventurous greetings from Spain.
Anja